How To Become The Best Version Of Yourself (6 Steps)
The best way to become unstoppable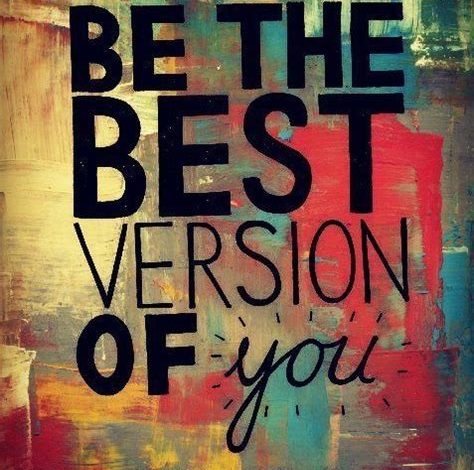 6 Steps you Can't Miss to Become a Better you
There are three major reasons why you are on this planet.
The first is to try as many new things as possible and to live life to the fullest.
The second is to leave a constructive legacy through creating, contributing, sharing, and contributing.
The third reason you're in this world is to learn, progress, and grow into the best form of yourself.
So, what can you do to ensure that you are becoming the finest version of yourself?…
The following are the six areas of life where you must continually develop in order to become the best version of yourself and which should be included in your ideal self to become a better you:
Body

Mind

Emotions

Spirit

Relationships

Assets
1. Take Care of your Body
Your body is the most magnificent thing you will ever possess, and it is difficult to become the best version of yourself without a healthy and firm physique.
So, in order to reach your full potential and peak performance, the first thing you need to do is take excellent care of your body.
The good news is that there are a number of highly practical indicators you can use to track your health and how well you're caring for your body so you can see whether or not you're developing your physical talents and become the best version of yourself.
2. Take Care of your Mind
The next thing you should look after is your mind. We live in an information culture, therefore maintaining your mental health is crucial.
Your mind is your most valuable asset for creating, delivering, and capturing as much value as possible on the markets; you should also look after your mind in order to make smart life decisions.
If you want to reach your maximum potential, you must master your mind; otherwise, your mind will work against you rather than for you.
If you don't take control of your mind, it will focus on negative thoughts, cognitive distortions, and mental masturbation instead (entertainment).
3. Take Care of your Emotions
Taking care of your intellect has a significant positive impact on your emotions.
Your emotions will become considerably more positive as a result of focusing on the positive and fully dealing with your cognitive distortions, though, it isn't enough if you want to perform at your best.
Your ideal self is a vision of who you wish to be in the future. However, vision without emotional support and a strong desire to act is only like a mirage.
That is why you must have a compelling why; a compelling emotional purpose or life mission for wanting to be the best version of yourself.
If you want to constantly improve yourself, you must act with a sense of mission and inspiration.
4. Take Care of your Spirit
Taking care of your spirit demonstrates that you have a firm belief in life.
There are many different methods to care for your spirit, and all of them are OK as long as they assist you in becoming the greatest version of yourself and you are not harming others with your extreme views.
The other ways to take care of your spirit are religion (Buddhism, Christianism…) and spirituality (this can be for example practicing meditation and controlling your energy levels).
Praying, doing good, believing in God, being appreciative, and assisting others and society are all things that bring tranquility, karma, and overall good into your life.
This is how you look for your spirit, and it's an essential element of developing your personality and being the greatest version of yourself. You can only be the best version of yourself if you also make the world a better place to live for future generations.
5. Take Care of your Relationships
It's difficult to have a fulfilling and happy life without a plethora of healthy and meaningful connections, and it's also impossible to grow into the best version of yourself without having and nurturing exceptional relationships.
People have the power to make or break you, but, these same people also may have the ability to bring out the worst in you or the best in you. Furthermore, no one can achieve on their own usually without going through personal experiences, having a mentor, or a great personal relationship with somebody to learn from.
You need a dream team of individuals in your personal life and you also need a dream team of people at work to have massive success in both areas of your life.
6. Take Care of your Assets
Your assets are the last thing you should worry about if you want to be the best version of yourself.
Assets are the things that can assist you leverage and accelerate your achievement and attain peak performance on all levels of life more quickly and effectively.
If you want to be truly successful in life, reach your peak performance, and achieve huge achievements, you must use external resources which may develop far quicker than your internal assets.
The fundamental issue is that obtaining inner assets is already extremely difficult. However, obtaining and maintaining external assets is much more difficult.
In my opinion, you must have a deeper understanding of markets, media, people, and money management, as well as the ability to develop products that people desire if you want to start having some fast and great success.
And you should know,  there's a lot of competition, but it's not impossible as long as you have the inner power to keep on going with your ideas and develop the right mindset.
What do you think about the post "How To Become The Best Version Of Yourself (6 Steps)"?… let me know in the comments below or by sending me a private message in the "Contact us" above section like most of you do!
Check My Private Library For Personal Development
Read More About Personal Development
…
Would You Like To Be Able To Help People By Learning New Skills?…
Below Are The Easiest And The Most Effective Ways To Make It Happen!
Other Important Resources
Always fighting for your rights and your daily improvement,
Juan Plamen
Author