Set Realistic Goals
Things to Know in order to set Realistic Goals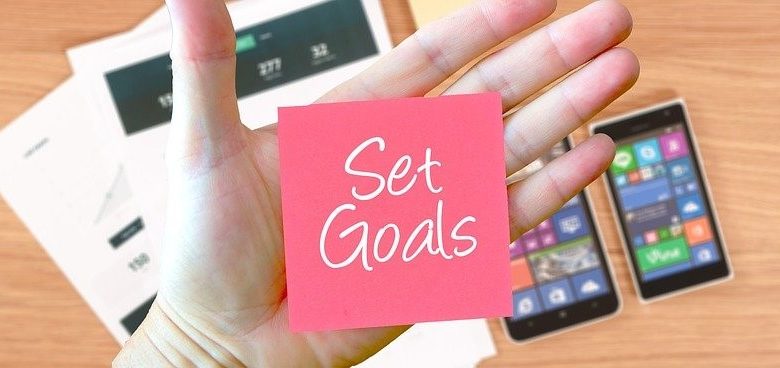 Tips for Smartly Setting your Goals
It is easy to get swept up in a busy day-to-day routine in the current generation. You could work hard on a daily basis, but you may not work effectively and maximize your time and effort to achieve long-term objectives. The setting of objectives and expectations leads to long-term perception and motivation in the short term.
You can start making the most of your time and life by organizing time and resources. It is important to measure the steps you are taking and celebrate each accomplishment once goals are set.
Why Are Setting Goals Important?
"Setting goals is the first step in turning the invisible into the visible."

                                                                                  _ Tony Robbins
Professional athletes, successful people, and achievers all set goals in all fields. Setting goals gives you a long-term vision and motivation for the short term. It focuses on knowledge acquisition and helps you organize your time and resources to make the most of your life.
You can measure and feel pleasure in achieving those objectives by setting sharp, clearly defined goals, and you will see forward progress in what might have previously seemed a long pointless grind. As you acknowledge your own ability and skills to achieve the goals you have set, you will also increase your self-confidence.
To defeat your anxiety and earn yourself the athlete's mindset, I recommend you to check this course
Tips For Setting Smart Goals
Have you ever heard of SMART aims?  Simply put, it's a system of goal-setting that will allow you to be effective. You can simplify your goals by using SMART goals and ensure that each objective you set is important to you and that there is value in achieving it.
SMART is an acronym, and it can be used to provide a clear insight into what an achievable goal should be, although there are several minor variations that you'll learn about in the next paragraphs to come!
Specific
A particular objective has a much better chance of succeeding than a general objective. "Ask yourself the five "W" questions to make sure your goal is specific:
Who's getting involved?

What would I like to achieve?

Where is this going to happen?

When is this going to happen?

Why is this supposed to occur?
"For example, "Lose weight and get in shape" would be a general goal, but a particular goal would be "Sign up for an aerobics class at the local gym and participate for one month at least 3 times a week.
Measurable
It is essential to develop a way to measure your progress towards achieving your objective. Perhaps a way of tracking your success would be to track how many pushups you can do in one session if your goal is to get in shape.
For example, imagine your goal for the next month is to lose 5 to 10kg. what would be best to do to keep track of your progress?… you could make a table plan, or perhaps, even download an app on your phone.
From there on, you'll start to check the progress you make and you'll start to set new goals and even become more creative to create new routines and plans!
I think that the School of Positive Transformation has one of the BEST programs when it comes to how to overcome your fears, set new challenges, and become the best possible version of yourself.
Attainable                                                 
Ask yourself before setting your target if there is something in the area of interest that could stand in the way.
For starters, if your goal is to allow your basketball team members to do 50 pushups in a minute, you'll need to make sure that your team is committed to the goal as well. Otherwise, you're going to have a tough time making it happen.
An example of how to make sure an attainable goal is completed and taken seriously… make sure to motivate and inspire your team by mentally supporting them into doing their best, also, providing them with the best equipment may help a lot.
Another example, talk to them about the future benefits they'll get if they keep on training for the objective/goal set (they will be featured in a magazine, in your blog, they'll become so much stronger than before…) just help them to draw a future vision.
Realistic
Set targets that you are eager and ready to strive for. Although you should still set goals that will encourage you to be successful, a practical approach is important to take.
For starters, if you don't have any long-distance running experience, it may not be advisable to set a target of completing a marathon because it will be too much and it will even unmotivate you for your future goals.
That doesn't mean that in the future you will not complete a triathlon though! First, aim to set a target of running a 5K, and then work up to a more competitive challenge. Just keep reading and re-reading this post again and again to get more ideas on how to set practical targets.
Timely
Allow yourself a time limit for your target to be completed, in this way you'll start to be setting objectives in a clear and motivating way without letting yourself giving up before getting in the limits you've set for yourself.
There's no sense of urgency without a time limit attached to your target and you'll be less inspired to make it happen. For example, If you plan to lose 10 pounds, for instance, set a reasonable deadline for when that target will be reached and the time you'll be training each day.
"Someday" is not going to work, you need to make things happen!
Check In
Regularly check up on the targets. Recognizing what works for you and what isn't is critical. If possible, now is a perfect time to readjust targets or build new ones.
For example, because of your work schedule, if you're overwhelmed with your target of attending an exercise class three days a week, change your goal to make it to class once a week. Adjust the target again when you've effectively completed a class once a week for a month. Be sure you enjoy this moment, congratulate yourself, and try to be excited for future ambitions until you have accomplished your goals.
Check My Private Library For Personal Development
Read More About Personal Development
…
Would You Like To Be Able To Help People By Learning New Skills?…
Below Are The Easiest And The Most Effective Ways To Make It Happen!
Other Important Resources
Always fighting for your rights and your daily improvement,
Juan Plamen
Author